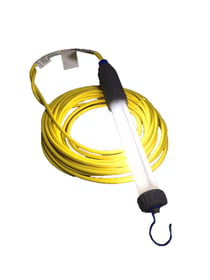 Built Tough for Harsh Environments
Ericson's industrial grade 910 LED Hand Lamp Series is enclosed within a shatter-resistant barrier and is supported by a rugged, heavy-duty, rubberized, non-conductive, corrosion-resistant molded end cap & handle. Engineered and manufactured to withstand the harshest work environments, the LED task light provides a safe and reliable light at only 10 watts of power at 1440 lumens.
Many options are available within the 910 Series hand lamp to provide you with a solution that meets any application need.
Find out more about the 910 series by contacting us.