Keep Workers Safe in Tight Spaces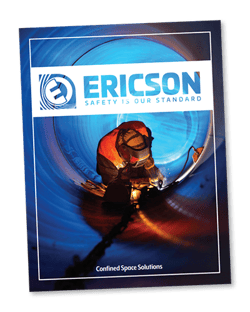 Working in a confined space is inherently dangerous. Throw in the risk of the tank or space being energized by improperly protected equipment and you've got an even more dangerous work environment on your hands.
Ericson has been protecting workers for over 100 years so we know a thing or two about the dangers of challenging work environments. Confined space entry safety is an important focus of our company and that is reflected in our product offerings that meet NEC and OSHA 1910.146 standards. We have lighting, transformer, and GFCI solutions to make sure your personnel stays safe while working in tight spaces. We also manufacture power distribution units to bring power to the work site.
Download this guide to learn about some of our confined space entry products, including:
String lights
Hand lamps
Specialty boiler lighting
Explosion proof lighting
Low-voltage lighting
Transformers
GFCI protection
Complete the form to download our guide and learn about some of Ericson's most popular solutions for confined space entry safety.