An Easy Step Towards FSMA Compliance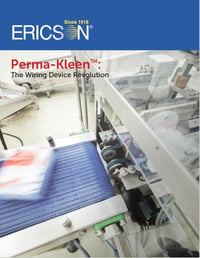 When you work in the food and beverage industry, not any wiring device will do. Ericson's Perma-Kleen offers superior anti-microbial protection and added peace of mind when it comes to safety.
In this white paper you will learn about:
Wiring Device & Cable Protection
Bacterial Growth Suppression
Understanding Anti-Microbial Performance & Characteristics
Performance of Power Drops & Portable Cables
Simply fill out the form to download the white paper and find out more.