Download our OEM solutions guide today!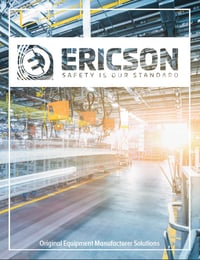 Manufacturers are constantly looking for trusted suppliers for their component parts that will help streamline their processes and increase efficiency. Partnering with Ericson gives OEMs the products they need and the peace of mind from knowing that they've chosen a quality solution.
Ericson supplies wiring devices, power supply cables, wire mesh grips, GFCIs, and other safety electrical products to OEMs all over. As an industry leader in manufacturing, we've proven time and again that we produce superior products that measure up to the most exacting standards.
Download this guide to learn about some of our hazardous location products, including:
GFCIs
Wiring devices
Receptacles & flip covers
Power supply cords
Wire mesh grips & glands
Complete the form to download our guide and learn about some of Ericson's most popular solutions for OEMs.