Ship Building and Maintenance Lighting and Power Solutions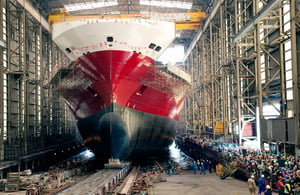 Ericson's long-standing relationships with leading shipbuilding contractors and shipyard personnel have enabled us to develop unique solutions ideally suited to the diverse challenges present in these environments.
Designed and built to the highest standards, with an unwavering commitment to exceptional quality and OSHA / NEC safety standards, all products deliver unrivaled personnel and equipment protection. Our proven capabilities deliver essential power and lighting, freeing you to focus on critical maintenance activities.
Download this guide to learn about some of our hazardous location products, including:
Temporary power transformer/distribution units
Ericson Exclusive Linear LED Tube String Lights
LED Hand Lamps
Explosion proof String Lights & Hand Lamps
Transformers
Complete the form to download our guide and learn about some of Ericson's most popular solutions for ship building and maintenance.